When in the south of Tenerife, a trip to the sunkissed cove of Playa Abama is a must. An exclusive enclave for those in search of paradise, this beach offers peace and relaxation in spades.
BEACH: Playa Abama, located in front of the Abama Hotel
WHERE: Guía de Isora in the west of Tenerife. This beach is managed by the Hotel Abama so head towards the hotel and you will end up at Playa Abama if you follow the long path and stairway down to the sand.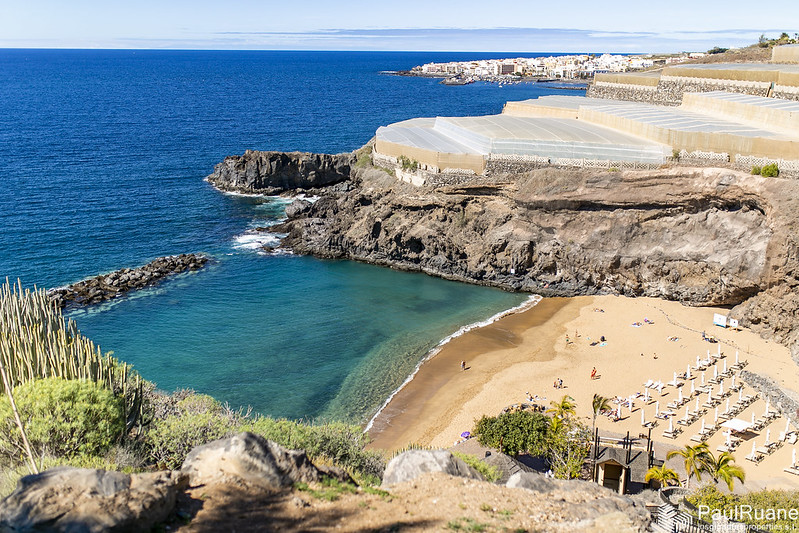 WHY: Hidden between the cliffs of the Guía de Isora coastline lies the secluded cove of Playa Abama. It has long been seen as a chic and exclusive place to soak up some rays and enjoy the tranquil waters that sparkle in the sunlight. The beach was built by the Hotel Abama to use by its guests, but it can be accessed by the public via a winding track and stairway.

Luxury sun loungers are available for a fee and the vibrant 5*restaurant that is nestled inside the cove, really sets Playa Abama apart from other beaches in the area. Enjoy clear, turquoise blue waters and very few waves on this family-friendly Tenerife beach which is popular amongst expats as well as locals. As well as being a textbook-perfect beach, it also scores points for being close to: 
The historical town of Guía de Isora, an 'Asset of Cultural Interest'
The Chio Recreational Area Picnic Spot
Isora Confectioners Sweet Shop 
Local restaurants such as Plazale Pizzeria or Casa Gusto
HOW: From the TF1 highway, take the exit towards TF47 Playa San Juan/Puerto Santiago/Los Gigantes. At the roundabout, take the 3rd exit onto the TF47 and follow this road for just over 8km. The Abama Hotel will appear on your right. Parking is available via the hotel. Playa Abama is not suitable for those with mobility issues. 
SHADE OF THE SEA: Capri Blue
SHADE OF THE SAND: Ice Cream Cone