Playa Alcalá may be a small 30 meters in size, but it is definitely perfectly formed. Located in the town of the same name, this urban beach offers gentle waters, warm volcanic sand and premium beach facilities for all to enjoy.
BEACH: Playa Alcalá, Guía de Isora
WHERE: Playa Alcalá is located on the west coast of Tenerife in the municipality of Guía de Isora close to Playa San Juan. The beach is overlooked by the Palacio de Isora hotel, a top 5-star destination that adds a feeling of luxury to this small dock. 
WHY: Since the beach is strategically located on the doorstep of a Tenerife beachfront hotel, Playa Alcalá is impeccably clean and well cared for. Be sure to arrive early to this beach to grab a place on the sand as it very quickly fills up, especially in the summer months. The beach has a very low-key, relaxed vibe which makes it a great destination for families.
Playa Alcalá Amenities
A boardwalk stretches out across the black sand and a water chair is available for disabled visitors. Above the beach, a small bar offers a shady spot to cool off after a day in the sun. The beach is also a famous destination for sea turtles and they are commonly seen not too far from the shore so be sure to bring your snorkel. Playa Alcalá also offers: 
Foot showers, sun loungers and parasols
Beach Bar offering tasty snacks
A picturesque hike taking you to Los Gigantes
Easy transport links by bus to surrounding areas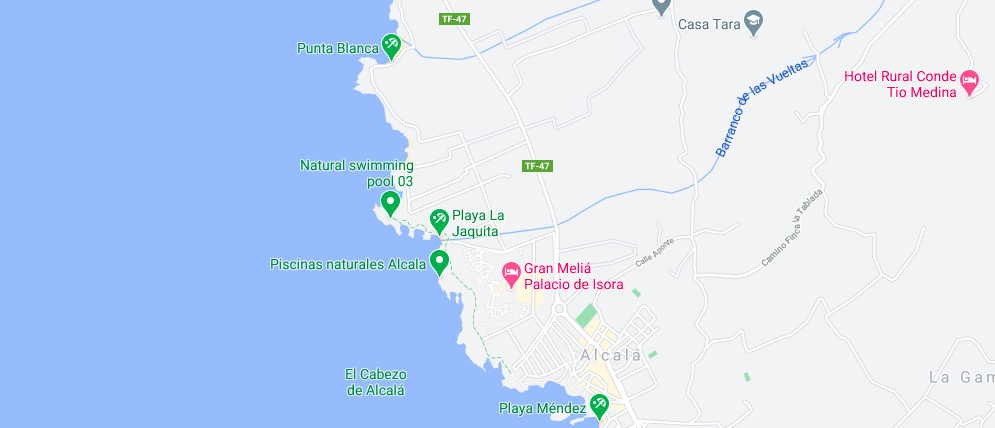 HOW: If arriving from the TF-1, take the TF-1 until you reach exit 87 to Playa San Juan, TF-46. Continue on the TF-46 until you reach a roundabout. Take the third exit titled Finca la Carrera TF-47and follow the signs for Playa Acalá. 
SHADE OF THE SEA: Turquoize Blue
SHADE OF THE SAND: Mink Brown